Nebraska makes world history 
By Jocelyn Olberding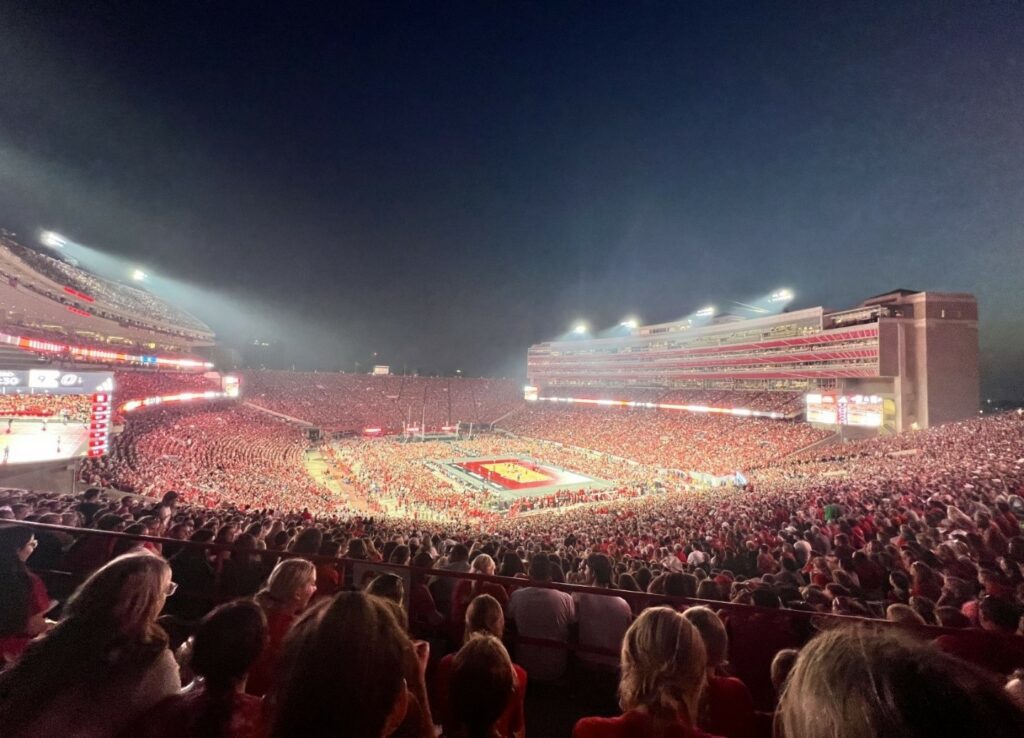 Nebraska volleyball fans just recently set a new world record for women's sports attendance. The previous record was set back on April 22, 2022, with 91,648 people attending the Champions League soccer match between FC Barcelona and Wolfsburg in Barcelona, Spain. Nebraskans were determined to break this record and to be part of world history and sell out Memorial Stadium on August 30. 
Volleyball Day is a day where a volleyball court was set up on Memorial Stadium football field with a goal in mind to make history. The event included two different matches and four teams: Wayne State, University of Nebraska-Omaha (UNO), University of Nebraska-Lincoln (UNL) and University of Nebraska-Kearney (UNK). The first match was between Wayne State and UNK. Wayne State won the first game in three sets (25-17, 25-17,15-12). The second match was between UNO and UNL. UNL ended the night with a win in three sets (25-14, 25-14, 25-13). 
After the second set between UNL and UNO was over it was announced to the packed stadium that a new record was set at 92,003 people. The Nebraska Volleyball fans filled the stadium with cheers and many emotions.  
When the games concluded, a drone and light show was put on in celebration for setting the new record. Country music artist Scotty McCreery performed a concert for the fans, teams and staff that made the day happen.  
Several Sacred Heart students got to experience this unforgettable experience. Sacred Heart Head Volleyball Coach Emma Ebel purchased tickets for 6-12 grade volleyball players. Ebel had a friend in the Husker Box Office that set the tickets aside.
This was a very important event for Coach Ebel because generations in the past experienced much discrimination between male and female sports. Even now, women's sports are still fighting for equal pay and equal primetime tv time. The Husker Volleyball team has more games aired this season than ever because of events like Volleyball Day.  
"Women supporting women is a powerful thing!" Coach Ebel said. "It made me emotional to see the sport I've loved my whole life get the same treatment as a college football game."  
Even if something like this never happens again, many of these Sacred Heart girls, coaches and parents will still get to say they were part of a world record with a total of 92,003 people attending the event. "I was overwhelmed at first, but once we got there it was such an incredible experience and one I will never forget," junior Addison Keller said.