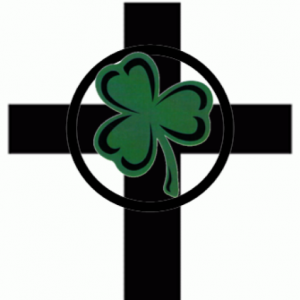 Sacred Heart School was started in 1891 to assist Catholic parents in the education of their children. Today the school carries out the same mission as a Preschool through Grade 12 School in the Catholic Diocese of Lincoln.
Sacred Heart School is supported by five Catholic parishes in Richardson County, Nebraska: Falls City, Sts. Peter and Paul; Rulo, Immaculate Conception; Arago, St. Mary's; Shubert, St. Anne's; and Dawson, St. Mary's.
The campus, located at 1820 Fulton, Falls City, NE, includes various buildings adjacent to Sts. Peter and Paul Church in Falls City. The main school building contains classrooms for the elementary, middle school and high school, as well as the school offices, library, and art room. Tiehen Gymnasium houses the music room and preschool room, gymnasium, weight room and locker rooms. The lunchroom is located in O'Connor Hall. Roh Activity Center (RAC) was built onto the elementary wing in 2015 adding a lunchroom, training room, office space, conference room and new gymnasium.
 Sacred Heart School Governing Values
To create a Christian community within the school by recognizing and respecting the God-given dignity of each individual.
To provide instruction in the Catholic Faith, Morals and Tradition, as well as opportunities in prayer, self-sacrifice and celebration of the Sacraments.
To prepare the student to become a productive member of our changing society, to share in the democracy of our country and to be a responsible citizen and leader.
To encourage the love of fellowman by providing students with opportunities for serving others in school, church and community.
To develop a sense of personal responsibility for one's own behavior based on Catholic moral teaching.
To accept each student as a unique person by recognizing effort, diligence and success in learning.
To provide a curriculum which encourages students to reach their full potential through high expectations and quality education.
To provide opportunities for students to develop, demonstrate and share talents through participation in co-curricular activities and community affairs.
To instill in students love of learning which will continue throughout their adult lives.
To lead students to hear and respond to God's call to holiness in their respective vocations.
To encourage family involvement in the educational process.
Sacred Heart School admits students of any race, color, national and ethnic origins to all the rights, privileges, programs and activities generally accorded or made available to students at the school. It does not discriminate on the basis of race, color, national and ethnic origin in administration of its educational policies, admissions, scholarship and loan programs and athletic and other school-administered programs.
2021-2022 Class Numbers
| | |
| --- | --- |
| PreK | 23 |
| Kindergarten | 15 |
| 1st Grade | 15 |
| 2nd Grade | 14 |
| 3rd Grade | 16 |
| 4th Grade | 17 |
| 5th Grade | 24 |
| 6th Grade | 6 |
| 7th Grade | 12 |
| 8th Grade | 12 |
| Freshman | 19 |
| Sophomores | 9 |
| Juniors | 16 |
| Seniors | 24 |
| Total | 222 |