Pep Club Officers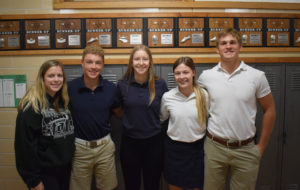 Emma Frederick
Jake Froeschl
Rachel Magdanz
Taylor Frederick
Brogan Nachtigal
Pep Club Leadership Teams
Roles:  President:  The responsibility of the President of Pep Club is to delegate and oversee the organization.  He/She will run the meetings asking for reports from each committee head and help to negotiate any issues that might arise.  The President will make the agendas for the pep rallies, visit with priests about opening and closing prayer, confirm with coaches for speaking engagements and make sure each committee has their work done in advance of the pep rally.
Vice President:  The responsibility of the Vice President of the Pep Club is to assist the President.   He/She will help when needed to confirm Committee responsibilities and will be an open ear for issues that need addressed.  Protocol will be that issues are taken first to the President and then to the sponsors, Mrs. Taft and Mrs. Wertenberger.
Treasure:  The responsibility of the treasurer will be to handle the money associated with the Pep Club and to assist Mrs. Taft and Mrs. Wertenberger with the issues that might arise with any merchandise purchases or materials needs.
Student Council Rep:  The responsibility of the Student Council Rep will be to work with the Student Council and report both to the Student Council what Pep Club is planning and to the Pep Club what the Student Council is planning.
Committee Chairs:  Each committee chair was selected to organize their committee for each individual task.  A committee chair is to listen to ideas and to work together with their team for a successful pep club.  The Committee Chair is not to do all the work themselves.  The pep club and our leadership teams only work if we are all truly a team and there is no "I" in team.  The Committee Chair is to report to the President and the sponsors on the activities that they are planning at the pep club meetings.  Committee Chairs are to work cohesively with the sponsors, president and officers.
Pep Club Leadership Team:  Each individual is expected to work hard towards creating an atmosphere that fosters positive student leadership at all activities.  You are the face of the pep club as well as ambassadors for Sacred Heart.  If you have an issue voice it through the proper chain of command starting with the vice president and president followed by the sponsors.  If you chose to not reflect Sacred Heart in a positive manner you can be removed from the Pep Club Leadership Team.