Father Caleb Hile joins SH staff
By Alex Madsen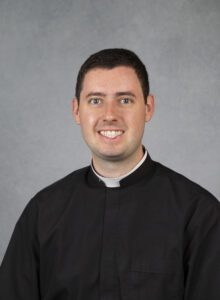 Father Caleb Hile joined the Sacred Heart staff this year to help out with parish duties and to teach some religion classes. Father Hile was previously teaching religion to sophomores at Pius X High in Lincoln, NE while also helping with the Cathedral of Risen Christ.
Catholic Schools are important to Father Hile, in part, because he came from one. Not only did he work at Pius, but he was also a student there throughout his high school career. During the middle of sophomore year, his entire life was flipped upside down when he started to feel a calling from God.
Father Hile attended the University of Nebraska-Lincoln for a year after high school to get the college experience and to think over one last time what his vocation in life would be. After praying about it frequently, he soon discussed it with his parents, and they agreed that he should pursue the priesthood. Father Hile enlisted in St. Gregory the Great Seminary in Seward, NE and made it through all three years with good grades and a close-knit group of friends (including Sacred Heart alum Father Robert Froeschl) before traveling to study at the acclaimed St. Charles Borromeo Seminary in Philadelphia, Pennsylvania.
Father Hile was ordained in 2020 into the Lincoln Diocese by Bishop James D. Conley. After working in Lincoln for a few years, he moved to Falls City this summer so he could have a couple months to get acclimated to small town life before school started. He makes frequent trips to Lincoln on Tuesdays (his day off), and often hangs out with three sisters and brother, or his many friends who take part in book club with him. He enjoys listening to podcasts ranging in topics from religion to politics on the roughly two-hour drive.
Father Hile has several big aspirations for the growth of faith and relationships with God in the school and parish. "I would like to show and teach students how to pray and get closer to God," Father Hile said. "I'm excited to be a part of such an amazing team within the parish, school and community."