The beginning of a Snow

 
By Destry Groth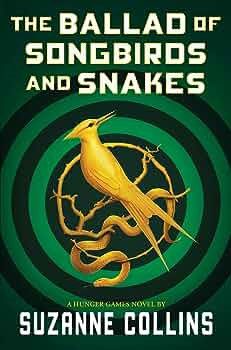 President Coriolanus Snow. The most hated character in The Hunger Games trilogy. Why is he the way he is? What was his young life like? Where did he grow up and learn all his ways? The answers to these questions and more are finally answered in Suzanne Collins' book The Ballad of Songbirds and Snakes, a book about a boy with nothing but determination and wit that ended up with everything.  
Young Coriolanus Snow had everything before the war, they were wealthy and living in a nice apartment in the Capital. Then his father made one wrong investment in District 12 and it all went south. They lost all their money, his mother then died during childbirth and his father died soon after in the war. This tragedy left young Coriolanus as orphan living with his grandmother, Grandma'am, and cousin, Tigris, in their once grand family apartment that has been destroyed by war. The Snow last name was once one to be feared, but with their financial problems it has lessened. Coriolanus has one chance to bring back the grandeur of their name. 
Snow decides the 10th Hunger Games is his chance; students have been brought into the games to bring a new life and interest. They were selected to mentor the tributes and given the chance to add new components to the games. Coriolanus thinks this is the break his family had been waiting for, but he gets the last assignment, the girl from District 12. Typically, the girls have no chance in the games, but she has a talent that could save her life. She is a singer, a talent forgotten in the war, but will that win her the 10th Hunger Games? Read The Ballad of Songbirds and Snakes to find out Coriolanus's fate, if they win the Hunger Games and what will happen after.  
I loved this book because it provided a background for the mysterious and sly Coriolanus Snow. It tells about why he is the way he is and how his firsthand experiences with poverty and the Hunger Games affected him. I liked how Collins kept the action moving and did not have many lulls in plot. Everything she writes has a purpose and it gets you thinking about what will happen next. I think it will honestly shock you and leave you wanting more. I also like how she makes and builds her characters. Whenever Collins introduces a new character, you can tell she put time into formulating them.  
Collins uses a lot of foreshadowing in her writing. She is using this book to foreshadow events in the Hunger Games trilogy. There are several references to the hating of mockingjays, which later become the symbol of Katniss Everdeen. There are also key similarities between this story and Katniss's, with the Snow's tribute being from District 12, all the talk of mockingjays, the settings, and the similar challenges for Everdeen and Snow. The quote, "Snow lands on top," is repeated multiple times throughout the book, and foreshadows how he will eventually become president of Panem like his Grandma'am always said he would.  
Overall, this book is a fun read, and it would be enjoyed by anyone who has read The Hunger Games or is looking into reading the series. The Ballad of Songbirds and Snakes helps readers understand more about life in the early post-war capital and how the Hunger Games developed into what they are. The book keeps you engaged, and you won't want to put it down. I give this book a 4.5/5 stars. Don't forget to watch the movie which is set to be in theaters on November 17.