T Swift Will 'Never Go Out of Style'
By Addison Keller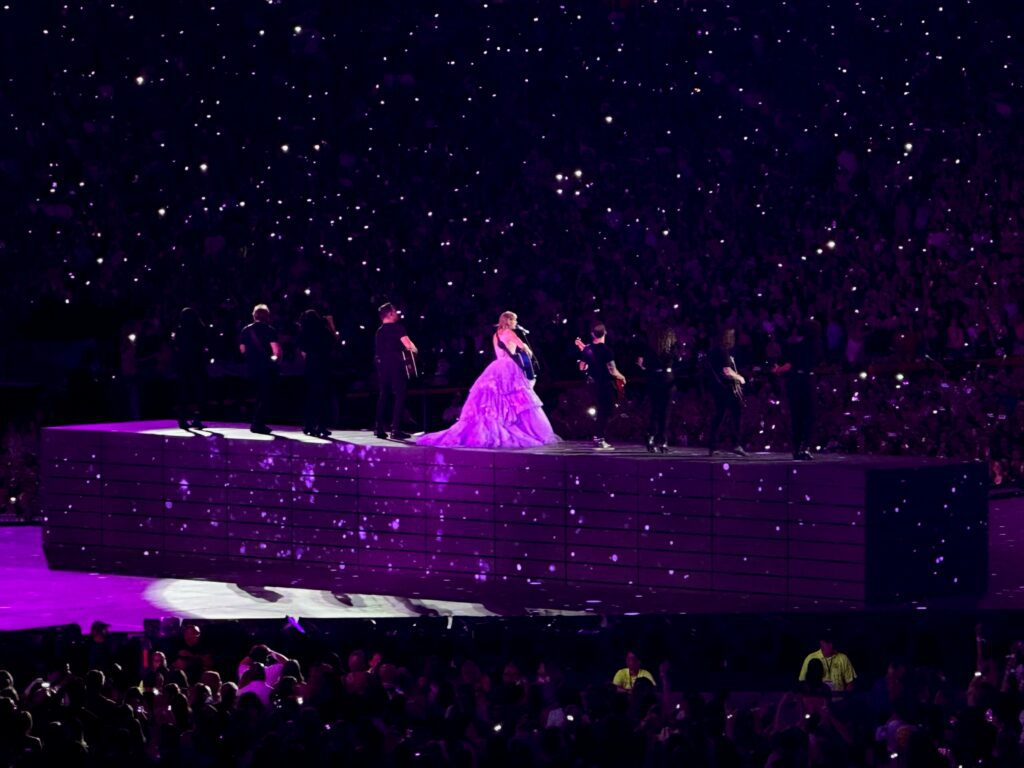 Taylor Swift performed her Eras tour for two July nights to a packed crowd in Arrowhead Stadium. The Eras Tour is essentially all of Swift's albums and each one holds a different era, representing different times of her life. Swift's fans went all out for this tour and dressed as their favorite album.
Taylor Swift hasn't been on tour in over five years, and you can only imagine how fans reacted to her announcement of the tour. The excitement and overflow of 'Swifties' trying to purchase tickets from Ticketmaster caused it to crash and left many fans disappointed. A large crowd of 80,000 fans, ranging in all age groups, took over Arrowhead Stadium.  The Era's Tour broke three huge records; it was the most attended concert by a female artist ever in the U.S., the most people to ever register for tickets in Ticketmaster history and it made more than one billion dollars in ticket sales.
Taylor Swift performed a wonderful show which consisted of an almost four-hour performance, 44 songs and 13 outfit changes! She started her show by opening with her 'Lover' era. This era is upbeat, but also holds more solemn songs. This era centers around being in love. Swift performed four songs which all held different moods, but were all moving and meaningful.
The next era was 'Fearless,' which was her second career album. This was full of songs about falling in love for the first time with no fear of heartbreak and how it could possibly end, but she quickly transitioned to 'Evermore' which involved a dreamy forest scene on stage along with Swift and her backup dancers wearing black capes to match the tone. "Evermore' included the song 'Marjorie' and Swift talked about how the song was about her grandmother passing away; this performance was filled with real and raw emotion from Swift.
This quiet and slow era was shoved out of the way when the dark and sleek era of 'Reputation' came on. 'Reputation' is filled of emotional layers and discusses her reputation between her personal life and pop life. These songs are all very energetic and bold. This era was filled with flashing lights and smoke. The smoke rose and matched the intensity of the songs, pulsating with the beats.
The 'Red' the era songs ranged from slow to a faster upbeat and enthusiastic mood. Swift poured her thoughts into these songs using all different song beats. Swift claims that writing this album and performing it "healed something along the way."
A beautiful, peaceful cabin backdrop then emerged for seven songs from the 'Folklore' era. Swift wrote this album when the pandemic was happening, and she mentions that this brought out a different side of her. This album resembled a maturing woman, and she mentioned she went from sugary song writing to a more emotionally powerful and intellectual way of writing in this album.
The shift from a mature era transitioned into the bright and vibrant '1989'era. Swift performed the hit song 'Shake it off' and ended with the loud and dramatic song 'Bad Blood' which really got the crowd up on their feet.
Swift gave a world premiere of a new music video from her album 'Speak Now, Taylor's Version' which had come out the previous day. On top of the excitement behind the music video, she had the special guests who were featured in the video come out on stage. These guests were Joey King, Presley Cash and Taylor Lautner. Lautner entered the stage by doing a few flips and the crowd went wild.
Each show had two surprise songs that hadn't been sung live before, and the songs sung on night one were 'Never Grow Up' and 'When Emma Falls in Love.' After the surprise songs, the beat was quickly picked back up, transitioning to her 'Midnights' era. Swift played seven songs from Midnights and they were all very upbeat and lyrically very catchy. Swift ended with a strong performance of the song 'Karma."
'Speak Now' was my favorite part of the concert because the songs were so moving and hit close to home. I also just really loved her outfit, and the show she put on for this era. Although 'Speak Now' was my favorite, 'Reputation' had an amazing light show and 'Midnights' was the last part of the night, and it included a huge firework show. There wasn't a single part of the evening that disappointed, and Swift put on the performance of a lifetime.