New school year brings new 3rd grade teacher
By Elle Falk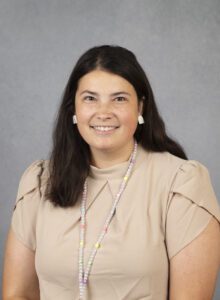 Sacred Heart welcomed a new third grade teacher, Emily Clark-Cochran, this year. Clark is married but hasn't had a chance to change her last name yet, so she has chosen to go by Mrs. C.
Clark grew up in Peru, Nebraska with one younger sister, attended Auburn High School and graduated in 2015. Her dad coached football and taught a physical education class, so she spent a lot of time in the library pretending to be a teacher because she was always around them. "I enjoy working with kids, and it's something I've always wanted to do," Clark said.
Clark continued her education at Peru State College, to get her degree in early childhood and elementary education and graduated in 2020. Knowing she wanted to be a teacher, Clark worked at Tiny Tots, a daycare in Auburn, during college.
After college she got her first job at Humboldt Table Rock Steinauer as a first-grade teacher and worked there for three years. She became interested in Sacred Heart after she helped with summer bible school and saw how everyone helped each other. "The parents are awesome and always willing to volunteer or help out," Clark said.
Outside of school Clark enjoys hanging out with her friends, family and her two Siberian Huskies. She is a big fan of football and likes keeping track of her fantasy league team. Clark doesn't have any children of her own, however she hopes to have some in the future.
"One of my main goals is to help my students find the joy of reading and learning," Clark said. "This year's third grade class is always willing to share a story about what we're learning."